Chiesa e Monastero della Purificazione
(Book 8)
(Day 2)
(Map A3)
(View B8)
(Rione Monti)
In this page:
The plate by Giuseppe Vasi
Today's view
S. Maria ad Nives (S. Andrea di Portogallo) and Madonna del Buon Consiglio (S. Pantaleo)
On the Esquilino between S. Pietro in Vincoli and the Monastery of S. Lucia in Selci of which the plate shows the bell tower, in the year 1589 a member of the Orsini family built a nunnery and a church. The view is taken from the green dot in the 1748 map below. In the description below the plate Vasi made reference to: 1) Monastery of S. Lucia in Selci; 2) Little chapel of S. Salvatore. The small map shows also 3) Monastero della Purificazione; 4) S. Maria ad Nives; 5) Madonna del Buon Consiglio.


The nunnery became a barracks after 1870 and eventually was pulled down together with the little chapel. The walls on the street and one of the entrances is all that is left together with the view over S. Lucia in Selci.
This church (left) is a fine XVIIIth century work by Giuseppe Sardi (although other experts attribute it to Carlo Fontana). It was known as S. Andrea del Portogallo (Vasi refers to it with this name). The convex façade shows the influence of Francesco Borromini.
The tiny church (right) of Madonna del Buon Consiglio or S. Pantaleo is now deconsecrated.

Excerpts from Giuseppe Vasi 1761 Itinerary related to this page:





Chiesa e Monastero della Purificazione

Dalla riferita chiesa di s. Martino ai Monti fino a questo luogo, ove osservammo questa chiesa, si crede essere giunte le terme Trajane cioè quelle fabbricate da Trajano, e accresciute alle terme di Tito, delle quali sono quelle rovine, che si vedono nelle vigne a sinistra. Nel monastero vi stanno le Suore di s. Chiara, e nella chiesa si osserva un bel quadro; ma non se ne fa l'autore.


Chiesa di s. Andrea in Portogallo

Corrottamente si dice ora questa piccola chiesa in Portogallo: anticamente però dicevasi col nome della contrada ad busta gallica, forse per i cadaveri de' Francesi ivi tumulati dopo la strage, che ne fece Cammillo. Fu questa antica parrocchiale: ma nell'an. 1607. fu conceduta alla confraternita de' Rigattieri. Indi voltando pel vicolo a sinistra, si trova la piccola chiesa di s. Pantaleone.

Next plate in Book 8: Monastero di S. Chiara
Next step in Day 2 itinerary: S. Pietro in Vincoli
Next step in your tour of Rione Monti: S. Pietro in Vincoli

Go to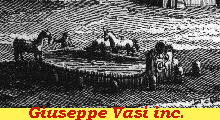 or to Book 8 or to my Home Page on Baroque Rome or to my Home Page on Rome in the footsteps of an XVIIIth century traveller.