Casino del Giardino Farnese sul Monte Gianicolo (Book 10) (Day 6) (Rione Trastevere)

In this page:
The plate by Giuseppe Vasi
Today's view
Palazzo (Villa) Lanti
Casa di Michelangelo
Chiesa del Sacro Cuore di Ges¨

The Farnese built a little casino immediately outside Porta S. Pancrazio to escape the summer heat and the unhealthiness of their Palaces (Palazzo Farnese and La Farnesina) along the river banks. The view is taken from the green dot in the small 1748 map here below. 1) Casino del Giardino Farnese; 2) Villa Lanti; 3) Casa di Michelangelo;4) Chiesa del Sacro Cuore di Ges¨.



The building was damaged in 1849, when it was known as Villa Savorelli, but it was rebuilt with only small alterations. It is now called Villa Aurelia and it is located at the beginning of the Passeggiata (promenade) del Gianicolo.
Learn more about Garibaldi's defence of the Roman Republic.

Passeggiata del Gianicolo leads to the Monument to Giuseppe Garibaldi and then to S. Onofrio. Apparently everything seems rather new, but Villa Lanti is a XVIth century building which commands a striking view over Rome. Its Renaissance looks are more clearly visible in the picture showing its fine loggia.

The large avenue which today connects Porta S. Pancrazio with Gianicolo is embellished by the fašade of a Renaissance house (it is just a fašade hiding a water reservoir). It once was the fašade of the house where Michelangelo lived and it was located near Macel de' Corvi at the foot of Campidoglio. Michelangelo preferred to live there rather than near the Vatican to have a greater privacy. The building was pulled down with the whole area towards the end of the XIXth century and the fašade was rebuilt on the street (Via delle Tre Pile) leading to Palazzi del Campidoglio, but in 1941 the need to enlarge this street led to a second move of the fašade to its current location.

By viewing down from Villa Lante towards the river one can see the small bell tower which belongs to the church of Sacro Cuore di Ges¨ which is inside a nunnery founded in 1837 by St. Madeleine Sophie Barat, founder of the Society of the Sacred Heart (more on her by clicking here). The gate of the nunnery shows the symbols of the order.

Excerpts from Giuseppe Vasi 1761 Itinerary related to this page:






Palazzo Lanzi

A piŔ del Gianicolo resta questo palazzo, ed altri casini di varie persone con deliziosi giardini, e nell'alto del monte evvi della medesima famiglia Lanti un giardino, e casino eretto con disegno di Giulio Romano, il quale vi fece alcune pitture, ajutato per˛ da' suoi allievi; e vi sono de' bassirilievi antichi, fra' quali un vaso molto bello.
BenchŔ il proprio nome di questo colle fosse quello di Vaticano, secondo alcuni glie lo cambi˛ poi Giano, il quale quivi ebbe la sua CittÓ a fronte del Campidoglio abitato nel tempo stesso da Saturno, perci˛, come dicemmo, quello fu detto Saturnia, e questo Gianicolo. Altri per˛ dicono esser cosý detto, Ĺ quod ineum tamquam per Janum populus Romanus primitus transivit in agrum Hetruscum ĺ, poichŔ i Romani da questa parte passarono a vedere le ricche, e popolate terre Toscane, dando vera interpetrazione al nome, il quale non vuol dire altro, che passare innanzi.



Next plate in Book 10: Casino e Villa Corsini fuori di Porta S. Pancrazio
You have completed Day 6 itinerary and your tour of Rione Trastevere! Move to Day 7 or to Rione Borgo.



Go to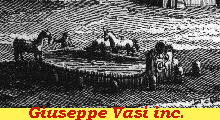 or to Book 10 or to my Home Page on Baroque Rome or to my Home Page on Rome in the footsteps of an XVIIIth century traveller.