HOW TO BUILD A "BERNARDA 10-foot" IN YOUR LIVING ROOM
AT 400 m height and 30 km from the sea
(utenti.quipo.it/laiolo/bernarda10)

an incomparable experience


---
BERNARDA's BROTHER


After a pregnancy lasting from dec 2004 to june 2005 Bernarda's little brother was born:
BERNARDO 14 feet !!!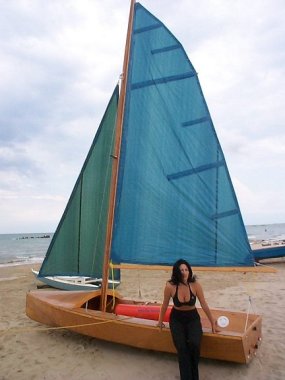 here's it , with provisional sails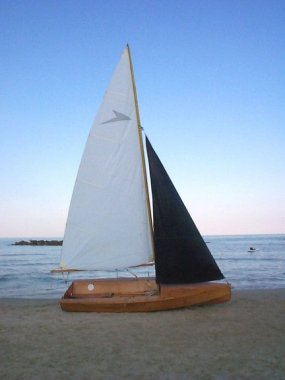 and with the incredible final ones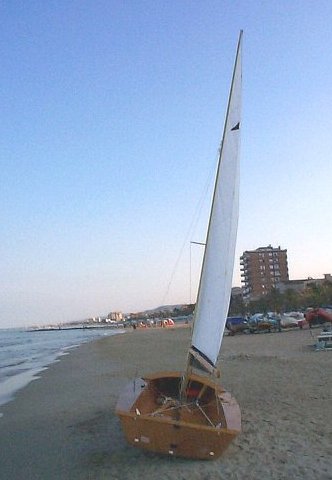 Bernardo is a "Javelin" class
it's a 14 feet australian skiff .
Is should be rigged with a mast 5 feet taller than this one . And should have a 7 feet bowsprit and a huge jennaker ....
But I must sail it by myself alone and then I had to downsize everything



here's the only picture where the two little brothers are shown together: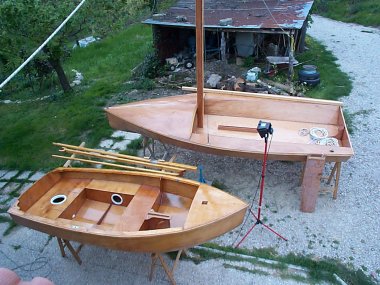 ---
Thank to all the guys who freely shared their knowledges and experiences .
And a very special thank to my splendid wife who allowed me to make havoc of our living room as can see in these pages.


---


DESIGNING THE BOAT

BUILDING THE HULL

LAUNCHING THE BOAT

TRASFORMING TO SAIL

LAUNCHING THE SAILING BOAT

LAST UPGRADES

"BERNARDA" IN THE WORLD

HOME

Contacts :
Berny Laiolo tel 0736/374464 - 329/0720854
email laiolo@libero.it

utenti.quipo.it/laiolo/bernarda10




I developed the complete boat drawings as dwg files (for autocad and similar programs.
Any mad man who likes to build a "BERNARDA 10'" despite what he saw in this site can contact me by email.
For the payment it's enough to send by fax a photocopied 150 euros (or 160 $) banknote.