HOW TO BUILD A "BERNARDA 10-foot" IN YOUR LIVING ROOM
AT 400 m height and 30 km from the sea
(utenti.quipo.it/laiolo/bernarda10)

an incomparable experience


---
THE DESIGN
I wanted a quite free project because it was for me only an occasion to do something nice with my son nor was I sure of being able to build a boat, I looked for all the (few) free boat plans you can find in the internet. Eventually I chose the Mertens D4 dinghy, 2,20 m L.O.A. that's offered for download in several internet sites as www.cantierino.it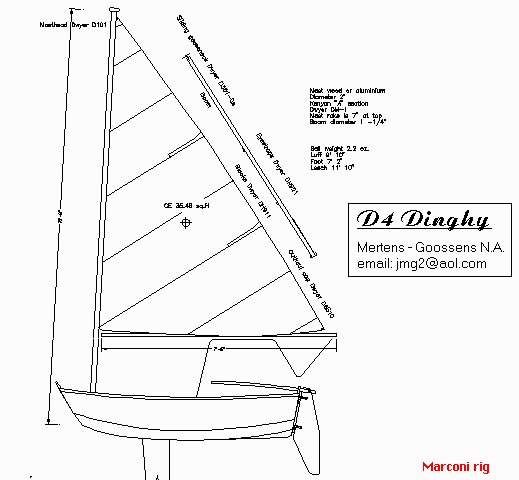 But before starting the construction I made a paper model scaled 1:10 in order to foretaste the charming boat shape. The results were depressing :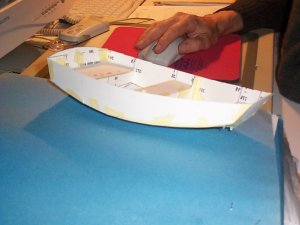 It was really a disgust!
With no stem ... flat bottomed, vertical sides ... it looked almost a kind of box.
So I decided I should improve the design making a "sharp" bow and adding one more chine to get a more rounded hull shape.
At that moment I was still thinking to build a Mertens' D4 just a little revised.
But a new surprise came out when I looked around to find the marine plywood:
the original design was 220 cm just because the standard plywood sheets in GB and USA are 244x122 cm and so the pieces could be built with no butt-joint. On the contrary in Italy the more available size is 310x153 cm! So what have I to do? Buy 3.10 m plywood , build a little bath tub and burn the remaining wood in the fireplace?
Eh no! I'll draw again the boat in order to exploit all the wood lenght.
So the boat will be no longer a "D4" , she becomes an original design : "Bernarda 10-foot" , next olympic class.




Thank to all the guys who freely shared their knowledges and experiences .
And a very special thank to my splendid wife who allowed me to make havoc of our living room as you will see in following pages.


---


DESIGNING THE BOAT

BUILDING THE HULL

LAUNCHING THE BOAT

TRASFORMING TO SAIL

LAUNCHING THE SAILING BOAT

LAST UPGRADES

"BERNARDA" IN THE WORLD

HOME

Contacts :
Berny Laiolo tel 0736/374464 - 329/0720854
email laiolo@libero.it

utenti.quipo.it/laiolo/bernarda10




I developed the complete boat drawings as dwg files (for autocad and similar programs.
Any mad man who likes to build a "BERNARDA 10'" despite what he saw in this site can contact me by email.
For the payment it's enough to send by fax a photocopied 150 euros (or 160 dollar) banknote.