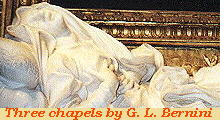 Three chapels by Gian Lorenzo Bernini
Gian Lorenzo Bernini's influence on the XVIIth century Italian sculpture and architecture can only be compared with that of Michelangelo in the previous century. Unlike Michelangelo and the stereotype of the artist, Gian Lorenzo Bernini had an easy-going attitude, a happy family and many friends. Like Michelangelo he had a long life (1592-1680) and he worked until the very end.
He had great managerial skills and for many years he organized the activity of sculptors, painters, goldsmiths, stone-cutters, etc.. He accepted large as well as small orders and he found innovative solutions for his customers with relatively small financial resources.
Until Napoleon forbade the dead to be buried in the churches, one of the most frequent signs of wealth was to be buried in a private chapel. This section shows three examples of chapels designed by Gian Lorenzo Bernini:
Cappella Raimondi in S. Pietro in Montorio
Cappella Cornaro in S. Maria della Vittoria
Cappella Paluzzi Albertoni in S. Francesco a Ripa

Other pages dealing with Baroque sculpture:
Monuments showing the dead in a medallion
Baroque Angels
Representation of Death in Baroque sculptures
Statues in the act of praying
Baroque Monuments to the Popes
Three busts by Alessandro Algardi
Baroque High Reliefs
Statues Close to Heaven
Embittered Andrew (the statues in St. Peter's octagon)
Laughing Masks
Playing with Colours
See also my List of Baroque Architects and my Directory of Baroque Sculpture.


Go and see another work by Gian Lorenzo Bernini or go to my Home Page on Baroque Rome or to my Home Page on Rome in the footsteps of an XVIIIth century traveller.