ROME
in the footsteps of an XVIIIth century traveller
(W. Tischbein - Goethe in the Roman countryside, in the background Cecilia Metella's tomb)
Giuseppe Vasi published between 1747 and 1761 ten books of etchings on the monuments of Rome. The plates were grouped by subject: churches, gates, bridges, palaces, villas, etc.. The books became a bestseller among the foreigners visiting Rome. Vasi then wrote a guide for visiting Rome in eight days and driven by the success of this guide he published in 1765 the grand View of Rome. In 1781 he completed his work with a Map of Rome. This site complements my site on Baroque Rome in the etchings of Giuseppe Vasi, which contains a section on the coats of arms of the popes (*), with the drawings of Filippo Juvarra.
The view shows 390 points of interest grouped in the eight itineraries of the guide:
Day 1 From Ponte Molle (Milvio) to S. Croce in Gerusalemme
Day 2 From Porta Maggiore to Villa Borghese
Day 3 From Via del Babbuino to the S. Lorenzo fuori le Mura
Day 4 From Via di Ripetta to Palazzo Massimi
Day 5 From S. Andrea della Valle to Isola Tiberina
Day 6 Trastevere
Day 7 From Ponte Sisto to Ponte Trionfale
Day 8 The Vatican
A Short and Delicious Digression The Environs of Rome: From Ponte Salario to Porto
Note: the itineraries do not cover all the monuments of Rome shown in the 10 books of etchings. See the list of links to pages showing monuments not mentioned in the itineraries.

The View is dedicated to King Charles of Spain, who had previously been King of Naples (or of the Two Sicilies as this kingdom was also called), thus the king of Vasi himself, who was born in Sicily. The view is taken from the Janiculum where King Charles had many possessions. You may wish to start by having a look at a simple Map of the Walls of Rome.


(Detail of the Grand View of Rome and sketch of the eight itineraries)
Vasi provides not only a detailed view of Baroque Rome, but also of Ancient Rome, Medieval Rome, Renaissance Rome and Mannerist Rome.
This site contains also some pages on the Walks in the Roman Campagna written by Ferdinand Gregorovius in the XIXth century, a section on Baroque Sculptures, Rioni di Roma (the historical quarters of Rome) and several directories and a detailed index to help your navigation.


Use
to find a specific topic.
See a sample page! (Porta San Sebastiano)
(Let's go!)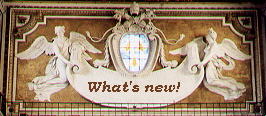 This site is maintained by Roberto Piperno.

(*) What happened to this section made me understand that there are.....