Monastero delle Religiose Filippine
(Book 8)
(Day 2)
(View B8)
(Rione Monti)
In this page:
The plate by Giuseppe Vasi (Villa Sforza)
Today's view
The Nunnery
Torre de' Capocci
Vasi shows in this plate a nunnery which had been completed in 1740, thus he calls it "assai moderno = very recent". As a matter of fact this very elegant building was the XVIIth century casino (small country house) of Villa Sforza and in 1740 it was enlarged and turned into a nunnery. The view is taken from the green dot in the 1748 map below. In the description below the plate Vasi made reference to: 1) First entrance to the monastery; 2) Steps leading to the main entrance; 3) Tower of S. Lucia in Selci (Torre de' Capocci).


The building near S. Maria Maggiore is now used by a Department of the Finance Ministry and the little street is always filled with parked cars.
History has left its marks on this building. The old plate of the nunnery is surmounted by the coat of arms of the Italian Royal family (right), whilst on the pillars of the entrance below the religious symbols one can see a fasces (erased) and an eagle of the Fascist period.
In medieval times life was so unsafe that defence towers (these belonged to the Capocci family) inside the city were quite common. In Rome, unlike San Gimignano only a few were spared. At Vasi's time the tower was part of Monastero di S. Lucia in Selci.

Excerpts from Giuseppe Vasi 1761 Itinerary related to this page:





Monastero delle Filippine

Fu questo altrove eretto sotto Urbano VIII. per custodirvi le povere zittelle sotto la protezione di s. Filippo Neri; ma essendo nel 1740. fatto quivi il nuovo monastero, invece di povere donzelle, vi sono delle religiose sotto la regola di s. Agostino.

Next plate in Book 8: Monastero di S. Maria dei Sette Dolori
Next step in Day 2 itinerary: Monastero delle Turchine
Next step in your tour of Rione Monti: Chiesa di S. Eusebio

Go to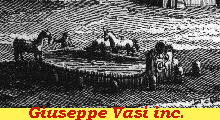 or to Book 8 or to the Plan of my site or to my Home Page on Baroque Rome or to my Home Page on Rome in the footsteps of an XVIIIth century traveller.