Map of the Walls of Rome
At the end of Book 1, Vasi added a sketch of the walls of Rome and of some other landmarks.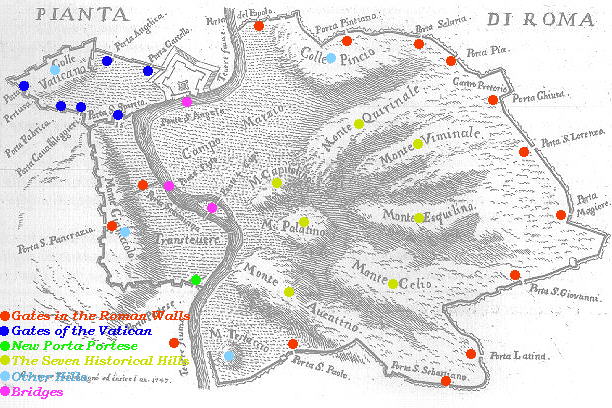 Rome was founded on April 21, 753 B.C. by Romulus on the Palatino hill. The initial settlement over time covered the other six hills near the Palatino. Rome had walls at the foot of the seven hills (called Servian Walls), but with the expansion of the Roman Empire they were not maintained. In 275 A. D. the Emperor Aurelianus built new walls around Rome and they included also a small section on the right bank of the river (Trastevere). The walls around the Vatican were initially built in the IXth century and they were almost entirely rebuilt in the second half of the XVIth century. In the first half of the XVIIth century pope Urbanus VIII built walls on Monte Gianicolo and redesigned the walls of Aurelianus in Trastevere.

You have completed Book 1! Move to Book 2 - plate 21 - Piazza del Popolo



Go to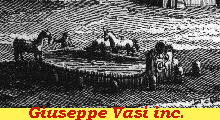 or to Book 1 or to my Home Page on Baroque Rome or to my Home Page on Rome in the footsteps of an XVIIIth century traveller.