DirecTV


VERSIONE ITALIANA
HOW TO BUILD A "BERNARDA 10-foot" IN YOUR LIVING ROOM
AT 400 m height and 30 km from the sea
(utenti.quipo.it/laiolo/bernarda10)

an incomparable experience


---
FOREWORD:
During my 2003 Christmas vacations I was wandering in the web , trying to find a sense for my squalid life. Suddenly I entered a site about boat building. It was like being struk by lightning!
I spent 15 days , 4 hours a day, looking in internet for all the sites about that subject. After the end of my holidays I ran to buy the plywood and the adventure started !"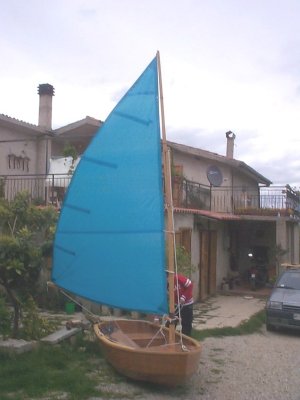 Thank to all the guys who freely shared their knowledges and experiences .
And a very special thank to my splendid wife who allowed me to make havoc of our living room as you will see in following pages.


---


DESIGNING THE BOAT

BUILDING THE HULL

LAUNCHING THE BOAT

TRASFORMING TO SAIL

LAUNCHING THE SAILING BOAT

LAST UPGRADES

"BERNARDA" IN THE WORLD

BERNARDA's NEW BROTHER

HOME

Contacts :
Berny Laiolo tel 0736/374464 - 329/0720854
email laiolo@libero.it

utenti.quipo.it/laiolo/bernarda10




I developed the complete boat drawings as dwg files (for autocad and similar programs.
Any mad man who likes to build a "BERNARDA 10'" despite what he saw in this site can contact me by email.
For the payment it's enough to send by fax a photocopied 150 euros (or 160 $) banknote.



link to a useful page of homeboatbuilding affairs:
The Shanty Boat Page