Porta Chiusa
(Book 1)
(Rione Monti)
In this page:
The plate by Giuseppe Vasi
Today's view
The Walls between Porta Chiusa and Porta S. Lorenzo
Triumphal arch of Sixtus V

Porta Chiusa means closed gate because the gate was most likely closed immediately after the fall of the Roman Empire. Vasi calls it Querquetulana, (quercia=oak) which is the name of a gate of the most ancient (inner) walls of Rome. The gate is located at the junction between the walls of Castro Pretorio and the walls built by the emperor Aurelianus and it allowed the pretorians a direct exit from Rome. Two short roads connected the gate to Via Tiburtina and Via Nomentana.
Unfortunately today the gate is hidden by modern buildings and it can only be seen by walking into the courtyard of a building in Via Monzambano (red dot in the little map here below).
The Walls between Porta Chiusa and Porta S. Lorenzo
Most of the walls between Porta Chiusa and Porta S. Lorenzo were pulled down to favour traffic towards the vast new area built beyond the walls. Towards Porta S. Lorenzo the walls are apparently duplicated because the aqueduct restored by Sixtus V (map in the center) runs parallel to them.
To celebrate the restoration of the aqueduct a triumphal arch was erected with the lion, mountains and stars of Sixtus V (see also Porta Furba and Fontana Felice). The picture shows also Palazzina Gentilini, an elegant small villa built at the beginning of the XVIIIth century making use of the double walls.

Next plate in Book 1: Mura dell'antico Castro Pretorio
Next step in your tour of Rione Monti: Piazza di Termini

Go to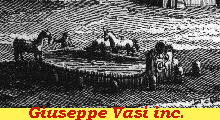 or to Book 1 or to my Home Page on Baroque Rome or to my Home Page on Rome in the footsteps of an XVIIIth century traveller.