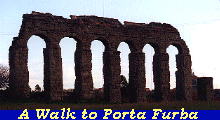 A WALK TO PORTA FURBA


Porta means gate so one may believe Porta Furba to be one of the gates of Rome. It is and it is not. It is a gate in the sense that it looks like a gate, but the walls of Rome are miles away. The walk starts at the junction between Via Appia Pignatelli and Via Appia Nuova (N. 1 in the map below), reaches Porta Furba (2 in the map) and then follows the aqueduct built by Sixtus V (Acqua Felice) to finish near S. Croce in Gerusalemme (N. 3 in the map).




(the two asterisks in the map refer to another walk: Via Appia Antica from Torre in Selci to Frattocchie).


Via Appia Pignatelli

Via Appia Pignatelli (after Antonio Pignatelli, Innocentius XII) was built for the Jubilee of 1700 to provide a link between the initial part of Via Appia Antica and Via Appia Nuova. The coat of arms at the junction with Via Appia Nuova celebrates the opening of the road.

Tempio della Salute is the name given by Giovanni Battista Piranesi to a IInd century A.D. Roman funerary monument along Via Appia Nuova at approximately one mile from its junction with Via Appia Pignatelli. The comparison between the etching by Piranesi and the actual monument shows how Piranesi emphasized the size of the ancient buildings but was very accurate in exactly showing the details of the decoration.

Acquedotto Claudio

The ruins of the aqueducts were a common feature of all paintings showing the Roman countryside. In particular the ruins of the aqueduct started by Caligula and completed by Claudius are impressive. They are the final part of two aqueducts Aqua Claudia and Anio Novus bringing water to Rome from springs near Subiaco in the Appennines.



Acquedotto Felice

This aqueduct was built by Sixtus V (Felice Peretti) immediately after his election. He did not restore a previous Roman aqueduct, however he made some use of Acquedotto Claudio. Acqua Felice did not need to be too high above the ground so the two aqueducts go parallel with occasional crossings.

Porta Furba





At the crossing of Via Tuscolana Sixtus V erected a triumphal arch to celebrate his aqueduct, which, by bringing water to the northern hills of Rome (Esquilino, Viminale, Quirinale), helped their development and increased the value of the large estate (Villa Montalto) the Pope had between S. Maria Maggiore and Termini.






In 1733 Cardinal Passerini rebuilt a part of the aqueduct which had collapsed and celebrated this restoration with an elegant fountain, crowned by the coat of arms of Clemens XII. In the picture you can also see the lion of Sixtus V.

Towards Rome

After Porta Furba the aqueduct becomes part of Rome. Immediately after World War II its arches were used to build some small unauthorized houses, which were later on pulled down. The aqueduct becomes part of the walls of Rome between Porta Maggiore and Porta S. Giovanni.






Go to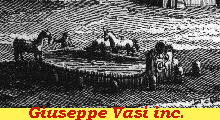 or to The Coats of Arms of the Popes or to My Home Page on Baroque Rome or to My Home Page on Rome in the footsteps of an XVIIIth century traveller