Monasterio di S. Paolo fuor le mura (Book 5) (Day 5) (View C12)

In this page:
The plate by Giuseppe Vasi
Today's view
The cloister
In the cloister


S. Paolo fuori le mura is located some one and a half mile from Porta S. Paolo, where the body of the Apostle was buried. For centuries pilgrims could reach the Basilica from Porta S. Paolo through an arcaded passage, now lost together with a little chapel which was located half way. The Basilica has been run by the Benedictines since 1442, but the Monastery goes back to older, unsafer times and thus looks like a medieval fortress. In the description below the plate Vasi made reference to: 1) Part of the Basilica; 2) Via Ostiense; 3) Tavern.


In summer 1823 a great fire destroyed almost the entire Basilica, but the Monastery and its Cloister were spared. The Basilica was rebuilt on the plan of the old one, but an incongruous bell tower in the shape of a lighthouse was added.
The cloister is a summary of early XIIIth century decoration as it was completed in 1214.
The Cloister is also a summary of Roman and medieval sculpture. Top left: sarcophagus with the history of Apollo and Marsyas; top right: statue of Bonifatius IX Tomacelli; lower left: Adam and Eve; lower right: a roman fragment showing a soldier on an elephant.

Next plate in Book 5: Basilica di S. Paolo
Next step in Day 5 itinerary: Basilica di S. Paolo


Go to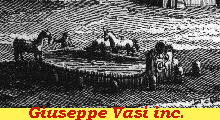 or to Book 5 or to the Plan of my site or to my Home Page on Baroque Rome or to my Home Page on Rome in the footsteps of an XVIIIth century traveller.