S. Lorenzo in Lucina
(Book 6)
(Map B2)
(Day 1)
(View C6)
(Rione Colonna)
In this page:
The plate by Giuseppe Vasi
Today's view
S. Lorenzo
The Monastery
Casa Vacca
The fourth side of the square of S. Lorenzo in Lucina is Via del Corso. The view is taken from the green dot in the small 1748 map here below. In the description below the plate Vasi made reference to: 1) Part of Palazzo Ottoboni; 2) Monastery adjoining the church; 3) Part of Palazzo Ruspoli. 1) and 3) are shown in detail in other pages. The small map shows also 4) S. Lorenzo in Lucina; 5) Casa Vacca.


Piazza S. Lorenzo in Lucina freed from cars is a nice place to spend some time, when Via del Corso is busy with shopping crowds. There are some changes, but overall the view is the same.
S. Lorenzo is a very old church, which was altered in 1650. The restoration has eliminated the baroque addition and enhanced its medieval appeal. The columns in particular are very elegant and can be found also in the side walls of the portico (see my background). Inside the church you may wish to see the Monument to Gabriele Fonseca by Gian Lorenzo Bernini.
The adjoining monastery is today occupied by the Carabinieri (one of the Police forces you can find in Italy) and has retained the original looks.

The area behind S. Lorenzo in Lucina was largely affected in the early XIXth century by the enlargement of Palazzo di Montecitorio to accomodate offices and facilities of the Italian Chamber of Deputies. The buildings along Via della Vignaccia were pulled down to obtain space for the enlargement. The Renaissance façade of the house of don Pedro de Vaca in that street was rebuilt in Via di S. Lorenzo in Lucina. Pedro de Vaca was a Spanish nobleman from Valencia who came to Rome maybe called by the Spanish Pope Alexander VI Borgia. As a matter of fact his coat of arms (a cow) was very similar to that of the Pope (Vaca, Italian vacca, means cow).

Excerpts from Giuseppe Vasi 1761 Itinerary related to this page:





Chiesa di S. Lorenzo in Lucina

Due si crede, che possano essere le cagioni, per cui questa chiesa parrocchiale si dica in Lucina; la prima, si arguisce dal tempio di Giunone Lucina, che fu ridotto in chiesa da s. Sisto III. e l'altra perché edificata da Lucina Matrona Romana. Fu poi da Benedetto II., Sergio I., e Adriano I. ristaurata, e nell'anno 1196. consagrata da Celestino III. Quindi essendosi nuovo riattata dal Card. Ugo Inglese, e dal Card. Innico Avalos spagnuolo titolari della medesima, fu poi da Paolo V. conceduta a' Chierici regolari minori l'an. l606. Nelle undici cappelle della sua nave ornate di pitture, e di sculture, specialmente l'altare maggiore, fatto con magnifico disegno del Cav. Rainaldi, si vede fra gli altri il ss. Crocifisso dipinto da Guido Reni, e nella cappella accanto un quadro del Cav. Benesiani; e nell'ultima uno di Carlo Veneziano: Le pitture però nel soffitto che rappresentano la Risurrezione del Signore sono di Mommetto Greuter napoletano, e le altre dello Spadarino, e del Piccione.
E' notabile, che in questa chiesa è sepolto Niccolò Pussino celebre pittore francese: ed ancora, che cavandosi per fare i fondamenti nella rinnovazione della sagrestia, furono scoperte buona parte delle guide, e segni dell' orologio solare, che si dimostrava coll'ombra dell'Obelisco, portato in Roma da Augusto dopo aver conquistato l'Egitto. Questo ammirabile Trofeo della Romana potenza fu quì presso disotterrato l'anno 1748., e fu posto per pubblica curiosità nel vicino cortile del palazzo detto della Vignaccia.

Next plate in Book 6: S. Niccolò de' Perfetti
Next step in Day 1 itinerary: Monastero di S. Silvestro in Capite
Next step in your tour of Rione Colonna: Obelisco cavato di sotto le ruine



Go to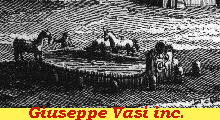 or to Book 6 or to my Home Page on Baroque Rome or to my Home Page on Rome in the footsteps of an XVIIIth century traveller.