Disegno dell'Anticaglia nel Giardino Colonnese
(Book 10)
The Plate (No. 193 - ii)
The ruins (inside Colonna gardens) are those of the Temple of Serapis, built by Caracalla. They were called Torre di Mecenate and thought to be the point from which Nero watched the fire of Rome.
Next plate in Book 10: Casino della Villa Peretti



Go to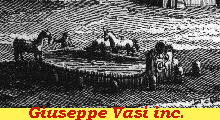 or to Book 10 or to my Home Page on Baroque Rome or to my Home Page on Rome in the footsteps of an XVIIIth century traveller.