Piazza Crescenzi
(Book 2)
(Rione Sant'Eustachio)
In this page:
The plate by Giuseppe Vasi
Today's view
Palazzi Crescenzi e Melchiorri
Vasi added some small plates to the 20 large plates of Book II to show some little squares of Rome. What appealed to him in Piazza Crescenzi is the little market full of life. The view is taken from the green dot in the small 1748 map here below which shows: 1) S. Eustachio; 2) La Rotonda del Pantheon. Both are shown in more detail in other pages. The small map shows also 3) Palazzo Crescenzi; 4) Palazzo Melchiorri.


An XVIIIth century couple is vainly looking for the old poultry market. The little square between the Pantheon and S. Eustachio has lost its market (now in Campo dei Fiori) but is now embellished by two columns of Nero's Baths which were found in 1934.
Palazzi Crescenzi e Melchiorri
Both palaces were "cut" by the enlargement of the street between them and the Pantheon but their fašades overlooking Piazza de' Crescenzi were not affected. Palazzo Crescenzi was designed in the early XVIIth century and the image above shows one of its windows. Palazzo Melchiorri is a late XVIth century building with a portal decorated with heraldic symbols of the owners.
Next plate in Book 2: Piazza Navona
Next step in your tour of Rione Sant'Eustachio: Piazza della Rotonda


Go to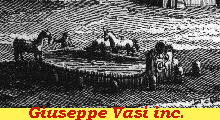 or to Book 2 or to my Home Page on Baroque Rome or to my Home Page on Rome in the footsteps of an XVIIIth century traveller.