Ponte Nomentano
(Book 5)
(Environs of Rome)
In this page:
The plate by Giuseppe Vasi
Today's view
Villa Chigi
Sedia del Diavolo (Evil's Chair)
Roman Tomb from Tor di Quinto
Ponte Nomentano on Via Nomentana (starting from Porta Pia) was a most sought after background for portraits of foreigners due to its medieval looks. It was also a spot for picnics! In the description below the plate Vasi made reference to: 1) Tavern on the side towards Sabina; 2) Ruins of the Roman period; 3) Via Nomentana towards Rome; 4) Monte Sacro. The small 1920 map shows the sites of 1) Ponte Nomentano; 2) Villa Chigi; 3) Monte Sacro; 4) Sedia del Diavolo; 5) Roman Tomb.


The Roman bridge was greatly damaged in the VIth century and it was restored in the XVth and XVIIth centuries by Nicholas V and Innocentius X who both are remembered by their coats of arms. The hill shown in the plate (Monte Sacro) is now heavily populated. According to historians, Roman plebeians congregated there when they abandoned Rome in a sort of general strike. Menemius Agrippa convinced them to return to Rome and to work by telling them an apologue (a sort of moral fable) about the different parts of the body being unable to stand on their own. The bridge had to bear today's traffic until a few years ago. Now cleaned and restored it can be safely crossed.
Villa Chigi
The Chigi had several possessions in Rome. Their casino in the outskirts is relatively small. It was built for Cardinal Flavio Chigi by Tommaso Bianchi and Pietro Camporese in the second half of the XVIIIth century. The gate shows the family symbols: Six Mountains and a Star.


A Roman funeral monument on a little hill near Via Nomentana was named in the Middle Ages Sedia del Diavolo (Evil's Chair) as the collapse of its entrance gave it the shape of a gigantic chair. It clearly shows the two storeys, a burial-chamber below and a meeting place for the funeral ceremonies above. You can see other similar monuments in Via Appia Antica.


In the early XIXth century excavations in Tor di Quinto, a marshy area north of Ponte Milvio, led to the discovery of a little circular tomb. In that period Via Nomentana was the site of several rich mansions and the tomb was rebuilt immediately outside one of these mansions. Later on Via Nomentana was enlarged and the tomb ended up in a traffic island. Its shape and its fine decoration are similar to those of other larger Roman tombs of the Ist century A.D..

Excerpts from Giuseppe Vasi 1761 Itinerary related to this page:





Ponte Lamentano

Tre altre miglia fuori di porta Pia č questo ponte, che dovrebbe dirsi Nomentano, dalla Cittā di questo nome, che non molto lungi era, celebre non tanto per gli avvenimenti profani, quanto per l'eroiche prodezze di molti ss. Martiri, i quali ne' primi secoli della Chiesa collo spargimento del loro sangue illustrarono la via, che dalla medesima Cittā dicevasi Nomentana, su cui furono le ville di Seneca, di Ovidio, di Quinzio, ed il famoso suburbano di Faonte liberto di Nerone, di cui ancora si vedono le rovine, come di molti tempj, e fabbrice cospicue.

Next plate in Book 5: Ponte Salaro
Next step in your tour of the Environs of Rome: Ponte Mammolo

Go to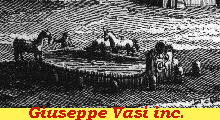 or to Book 5 or to my Home Page on Baroque Rome or to my Home Page on Rome in the footsteps of an XVIIIth century traveller.