Secondo Prospetto del Casino di Villa Madama
(Book 10)
(View C3)
(Day 8)
In this page:
The plate by Giuseppe Vasi
Today's view
Maybe the reason for the predilection of Vasi for Villa Madama is the fact that it was in the possession of his king, the King of Naples.
The view is taken from Foro Italico a large modern sport complex at the foot of Monte Mario. The main stadium of Rome (Stadio Olimpico, because of the 1960 Olympics Games) is part of this complex, but what is more interesting is the Stadio dei Marmi (Marble Stadium) where the provinces of Italy are unexpectedly represented by male nudes.
Next plate in Book 10: Casino della Vigna di Papa Giulio III
You have completed Day 8 itinerary!
Start your tour of the Environs of Rome!



Go to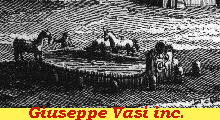 or to Book 10 or to my Home Page on Baroque Rome or to my Home Page on Rome in the footsteps of an XVIIIth century traveller.