Passo della Barchetta all'Armata (Book 5) (View D4)

In this page:
The plate by Giuseppe Vasi
Today's view
Villa Barberini and S. Giovanni dei Fiorentini


The Plate (No. 87 - ii)
Papal Rome was short of bridges so there were some ferries moving people across the river. Between Ponte S. Angelo and Ponte Sisto there were three points for crossing the Tiber. Barchetta means little boat, while Armata (Army) refers to a guard-house near the prison in Via Giulia. The view is taken from the green dot in the small 1748 map here below. In the description below the plate Vasi made reference to: 1) Via della Lungara; 2) Dome of St Peter's; 3) Villa Barberini; 4) Chiesa ed Ospedale di S. Spirito; 5) S. Giovanni dei Fiorentini. All are shown in more detail in other pages.


The quaying of the river banks and the new bridges built after 1870 caused the ferries to disappear. The view towards the Hospital of S. Spirito shows the buildings added to it in the 1930s. The tip of St Peter's is visible behind the trees. In the map here below the crossing points in the XVIIIth century: 1) from l'Armata to the steps leading to Monastero della SS. Croce; 2) from S. Anna de' Bresciani to S. Giuseppe; 3) from Mola dei Fiorentini, a mill near S. Giovanni de Fiorentini to Porta S. Spirito. Via della Barchetta, a little street between Via di Monserrato and Via Giulia, owes its name to the fact that it led to the ferry point.
Villa Barberini and S. Giovanni dei Fiorentini
From the river it is possible to "discover" Villa Barberini on the hill between the river and St Peter's. In the picture above a view of S. Giovanni dei Fiorentini taken from the river.

Next plate in Book 5: Fianco della Lungara e di Strada Giulia

Go to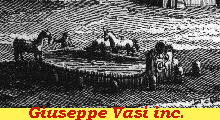 or to Book 5 or to my Home Page on Baroque Rome or to my Home Page on Rome in the footsteps of an XVIIIth century traveller.