Ferdinand Gregorovius

Ferdinand Gregorovius was born in 1821 in Neidenburg a town in Eastern Prussia. He studied theology and philosophy in Konigsberg and became a teacher and a writer for the local paper. In 1852 he made his first trip to Italy and he started researching the history of Rome after the fall of the Roman Empire. His studies were finalized in 1872 by publishing the History of the City of Rome in the Middle Ages (8 vol.), which is still today regarded as a fundamental text by modern historians.
His fame however came from the accounts he made of various sites of Italy in Wanderjahre in Italien (Italian Walks). Many accounts cover walks or rides he made in the environs of Rome.
Gregorovius was especially fond of Campagna di Roma the countryside around and south of Rome: because of his interest for medieval Rome he was attracted by the little towns which had seen the fights between the popes and the emperors/barons/Angevins in the XIIIth and XIVth centuries. Most of his accounts were written between 1853 and 1860, in the last years of the Papal State.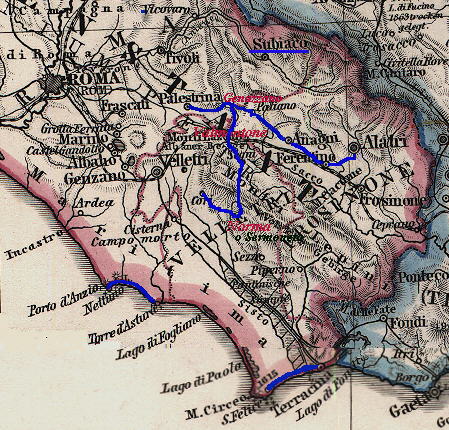 The map above was printed in 1863 and it shows the southern border of the Papal state. The blue lines show the itineraries of Gregorovius' walks you can find in this website. The pages give a short summary of Gregorovius' account together with pictures showing the main monuments.

Roman Campagna (Aus der Campagna von Rom):
Palestrina
Genazzano
Paliano
Anagni

The Ernici Mountains (Aus den Bergen der Herniker):
Ferentino
Alatri

The Volsci Mountains (Aus den Bergen der Volsker):
Valmontone
Segni
Norma
Cori

On the Latin shores (Idyllen vom Lateinischen Ufer):
Anzio
Nettuno and Torre Astura

Circe's Cape (Das Kap der Circe):
Terracina
San Felice

The Orsini Castle in Bracciano (Das Schloss der Orsini in Bracciano)

Subiaco, the oldest Benedictine monastery (Subiaco das šlteste Benediktinerkloster des Abendlandes)




Other walks in this website:

The Environs of Rome described by Giuseppe Vasi:
Tivoli
Frascati
Grottaferrata
Marino
Velletri
Albano
Castelgandolfo
Ariccia
Nemi
Genzano
Civita Lavinia
Porto
Other towns in the Castelli Romani area: Monte Pozio Catone, Montecompatri, Rocca Priora and Rocca di Papa

In and about Viterbo:
Viterbo
Bagnaia
Bagnoregio
Bomarzo
Orte and Vasanello
S. Maria della Querce
S. Martino al Cimino
Tuscania
Vitorchiano

From Civitavecchia to Civita Castellana:
Civitavecchia, Allumiere and Tolfa
Oriolo Romano and Capranica
Sutri and Monterosi
Nepi and Castel Sant'Elia
Civita Castellana

From Bracciano to Viterbo:
Manziana, Canale Monterano and Vejano
Barbarano Romano, Blera and Vetralla

Around Monte Cimino:
Ronciglione
Caprarola, Carbognano and Fabrica
Corchiano, Vignanello and Vallerano
Soriano al Cimino

A Pilgrims' Way:
Acquapendente
Bolsena
Montefiascone

On the Edge of the Marsh:
Sermoneta
Sezze
Priverno

In Maremma:
Corneto (Tarquinia)
Montalto di Castro and Canino

Via Appia:
A walk to Porta Furba
Via Appia Antica from Cecilia Metella to Torre in Selci
Via Appia Antica from Torre in Selci to Frattocchie

Via Prenestina:
A walk to Ponte di Nona

Via Tiburtina:
Anticoli Corrado where the painters found their models

Via Cassia:
Branching off Via Cassia: S. Maria di Galeria, Isola Farnese and Formello

Via Flaminia:
A Walk to Malborghetto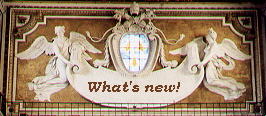 See my Home Page on Baroque Rome or my Home Page on Rome in the footsteps of an XVIIIth century traveller.