Fountains of Rome
This is a directory of links to the pages of my websites where fountains are shown.
There are two lists: The districts of Rome were defined in a precise manner in 1743 by Benedictus IV. The area inside the walls was divided into 14 districts called Rioni. One of the criteria followed in the definition of the districts was to have an even distribution of the population, at the time grouped near the river. This explains why the area of the rioni is so different. Today the same area is divided into 22 districts.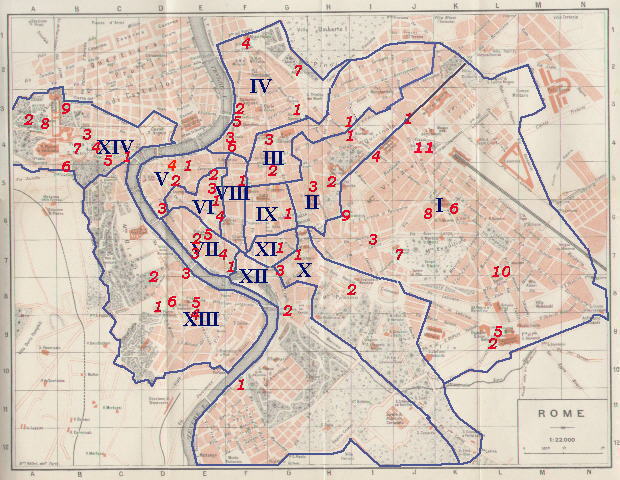 Legend:
The tables contain:
the name of the fountain or the name of its location
the architect or sculptor who designed it
the pope whose coat of arms or heraldic symbols decorate the fountain
the century in which the fountain was built
keys to the map: first the number of the Rione and of the fountain, then usual map references
Size of the fountain (very judgemental): L=large, M=medium, S=small
Note: twelve small fountains in the courtyards of private buildings are not included in the list and can be seen in Fountains in the Courtyards of Rome.
Name
(key)
Designed by
Heraldry of
Century
Location
Size
Fontana dell'
Acqua Acetosa
A. Sacchi
Alexander VII
XVII
N. A.
M
Fontana dell'
Acqua Felice
D. Fontana
Sixtus V
XVI
I -1/J-3
L
Fontane dell'
Acqua Lancisiana
N.A.
Clemens XI
Pius VIII
XVIII
XIX
XIV-1/C-4
S
Fontana dell'
Acqua Paola
D. Fontana
Paulus V
XVII
XIII-1/D-8
L
Fontana delle
Api
G. L. Bernini
Urbanus VIII
XVII
III -1/H-3
S
Fontana dell'
Aquilone
G. Vasanzio
Paulus V
XVII
XIV-2/A-3
M
Fountain in Piazza d'
Aracoeli
G. Della Porta
Sixtus V
XVI
X-1/G-7
S
Fontana della
Barcaccia
P. & GL. Bernini
Urbanus VIII
XVII
IV-1/G-3
M
Fountain next to
Battistero Lateranense
N. A.
Clemens VIII
XVII
I-2/L-9
S
Fontana della
Botticella
N.A.
N.A.
XVIII
IV-2/F-3
S
Fontana dei
Cavalli Marini
C. Unterberger
N. A.
XVIII
N.A.
S
Fontana delle
Chiavi
N.A.
N.A.
XX
XIV-3/B-4
S
Fountain in Piazza delle
Cinque Scole
G. Della Porta
N. A.
XVI
VII-1/F-7
S
Fountain in Piazza
Colonna
G. Della Porta
N. A.
XVI
III-2/G-5
M
Fountains in Via della
Conciliazione
N. A.
Paulus V
XVII
XIV-4/B-4
S
Fountain in Via dei
Coronari
N.A.
N.A.
XVI
V-1/E-4
S
Fontana dell'
Emporio
N.A.
N. A.
XX
XII-1/F-10
S
Fontana del
Facchino
N.A.
N.A.
XVI
IX-1/G-6
S
Fountains in Piazza
Farnese
N. A.
Paulus III
XVII
VII-2/E-6
S
Fountain in Via
Flaminia
N.A.
Pius IV
XVI
N.A.
M
Fontana del
Leone
N.A.
N.A.
XVI
V-4/D-4
S
Fontana del
Mascherone
N. A.
N. A.
XVII
VII-3/E-7
S
Fountain in Piazza
Mincio
G. Coppedè
N.A.
XX
N.A.
M
Fountain in Piazza
Monte di Pietà
N. A.
Paulus V
XVII
VII-4/E-7
S
Fountain in Piazza alli
Monti
G. Della Porta
Sixtus V
XVI
I-3/I-7
S
Fontana del
Moro
G. Della Porta
G. L. Bernini
Gregorius XIII
-
XVI
XVII
VI-1/E-5
M
Fontana del
Nettuno
L. Della Pitta
N. A.
XIX
VI-2/E-5
M
Fontana delle
Najadi
M. Rutelli
N. A.
XX
I-11/J-4
L
Fountain in Piazza
Nicosia
N. A.
Paulus V
XVII
IV-3/F-4
S
Fountains in the
Orti Farnesiani
G. Rainaldi
Paulus III
XVII
X-2/I-8
S
Fountain inside
Ospedale di S. Spirito
N. A.
Paulus V
XVII
XIV-5/C-4
S
Fountains inside
Palazzo Corsini
F. Fuga
N. A.
XVIII
XIII-2/D-7
S
Fountain inside
Palazzo di Fiano
N.A.
Gregorius XIII
XVI
III-3/G-4
S
Fountain inside
P.zzo di M.te Giordano
A. Casoni
N. A.
XVII
V-2/D-5
S
Fountain of
Palazzo Sacchetti
N.A.
N.A.
XVII
V-3/D-6
S
Fontana di
Ponte Sisto
G. Vasanzio
Paulus V
XVII
XIII-3/E-7
M
Fountains in Piazza del
Popolo
G. Valadier
N. A.
XIX
IV-4/F-1
M
Fountain next to
Porta Cavalleggeri
N. A.
Pius IV
XVI
XIV-6/B-5
S
Fountain next to
Porta Furba
N. A.
Clemens XII
XVIII
N.A.
M
Fontana del
Porto di Ripetta
A. Specchi
Clemens XI
XVIII
IV-5/F-3
S
Fontana dei
Quattro Fiumi
G. L. Bernini
Innocentius X
XVII
VI-3/E-5
L
Fountains in Piazza delle
Quattro Fontane
N. A.
N. A.
XVI
I-4/I-4
M
Fountain in Piazza del
Quirinale
N.A.
N.A.
XIX
II-2/H-5
M
Fountain in Piazza della
Rotonda
G. Della Porta
F. Barigioni
Gregorius XIII
Clemens XI
XVI
XVIII
VIII-1/F-5
M
Fountain in Piazza
S. Andrea della Valle
N. A.
Paulus V
XVII
VI-4/E-6
S
Fountain next to
S. Callisto
N.A.
N.A.
XX
XIII-4/E-9
S
Fountain in Piazza di
S. Giovanni in Laterano
N.A.
Sixtus V
Clemens VIII
Paulus V
XVI
XVII
I-5/L-9
S
Fountain in Piazza di
S. Maria in Campitelli
G. Della Porta
N. A.
XVI
X-3/G-7
S
Fountains in Piazza di
S. Maria in Cosmedin
C. A. Bizzaccheri
Clemens XI
XVIII
XII-2/G-8
M
Fountain in Piazza di
S. Maria in Trastevere
C. Fontana
N. A.
XVIII
XIII-5/E-8
M
Fountain in Piazza di
S. Maria Maggiore
C. Maderno
Paulus V
XVII
I-6/K-6
S
Fountains in Piazza
S. Pietro
C. Maderno
G. L. Bernini
Paulus V
Clemens X
XVII
XIV-7/B-4
M
Fountains in the cloister of
S. Pietro in Vincoli
N.A.
Julius II
Urbanus VIII
XVI
XVII
I-7/J-7
S
Fontana della
Scrofa
N. A.
N. A.
N. A.
IV-6/F-4
S
Fountain in Monastero della
SS. Annunziata
N. A.
N. A.
XVII
I-8/J-6
S
Fontana delle
Tartarughe
G. Della Porta
N. A.
XVI
XI-1/G-7
M
Fontana della
Terrina
G. Della Porta
N. A.
XVI
VII-5/E-6
S
Fontana delle
Torri
G. Vasanzio
Paulus V
XVII
XIV-8/A-3
M
Fontana di
Trevi
Nicola Salvi
Clemens XII
XVIII
II-3/H-5
L
Fontana del
Tritone
G. L. Bernini
Urbanus VIII
XVII
II -1/HI-4
M
Fontana del
Vascello
G. Vasanzio
N. A.
XVII
XIV-9/B-3
M
Fountain in
Villa Aldobrandini
N.A.
N.A.
XVII
I-9/H-8
M
Fountains in
Villa Altieri
G. A. De' Rossi
Clemens X
XVII
I-10/L-7
S
Fountain in
Villa Medici
N. A.
N. A.
XVI
IV-7/G-2
M
Fountain in
Villa Paganini
N. A.
Innocentius X
XVII
N.A.
S
Fountains in
Villa Pamphjly
A. Algardi
G. L. Bernini
G. Valvassori
Innocentius X
XVII
XVII
XVIII
N.A.
M
S
M
Fountain in
Villa Peretti
D. Fontana
Sixtus V
XVI
XIII-6/D-8
S
List by district
I - Fountains in Rione Monti

II - Fountains in Rione Trevi

| | | | | | | |
| --- | --- | --- | --- | --- | --- | --- |
| Name | (key) | Designed by | Heraldry of | Century | Location | Size |
| Fountain in Piazza del | Quirinale | N.A. | N.A. | XIX | II-2/H-5 | M |
| Fontana di | Trevi | Nicola Salvi | Clemens XII | XVIII | II-3/H-5 | L |
| Fontana del | Tritone | G. L. Bernini | Urbanus VIII | XVII | II -1/HI-4 | M |

III - Fountains in Rione Colonna

| | | | | | | |
| --- | --- | --- | --- | --- | --- | --- |
| Name | (key) | Designed by | Heraldry of | Century | Location | Size |
| Fontana delle | Api | G. L. Bernini | Urbanus VIII | XVII | III -1/H-3 | S |
| Fountain in Piazza | Colonna | G. Della Porta | N. A. | XVI | III-2/G-5 | M |
| Fountain inside | Palazzo di Fiano | N.A. | Gregorius XIII | XVI | III-3/G-4 | S |

IV - Fountains in Rione Campo Marzio

| | | | | | | |
| --- | --- | --- | --- | --- | --- | --- |
| Name | (key) | Designed by | Heraldry of | Century | Location | Size |
| Fontana della | Barcaccia | P. & GL. Bernini | Urbanus VIII | XVII | IV-1/G-3 | M |
| Fontana della | Botticella | N.A. | N.A. | XVIII | IV-2/F-3 | S |
| Fontana del | Porto di Ripetta | A. Specchi | Clemens XI | XVIII | IV-5/F-3 | S |
| Fountain in Piazza | Nicosia | N. A. | Paulus V | XVII | IV-3/F-4 | S |
| Fountains in Piazza del | Popolo | G. Valadier | N. A. | XIX | IV-4/F-1 | M |
| Fontana della | Scrofa | N. A. | N. A. | N. A. | IV-6/F-4 | S |
| Fountain in | Villa Medici | N. A. | N. A. | XVI | IV-7/G-2 | M |

V - Fountains in Rione Ponte

VI - Fountains in Rione Parione

Name
(key)
Designed by
Heraldry of
Century
Location
Size
Fontana del
Moro
G. Della Porta
G. L. Bernini
Gregorius XIII
-
XVI
XVII
VI-1/E-5
M
Fontana del
Nettuno
L. Della Pitta
N. A.
XIX
VI-2/E-5
M
Fontana dei
Quattro Fiumi
G. L. Bernini
Innocentius X
XVII
VI-3/E-5
L
Fountain in Piazza
S. Andrea della Valle
N. A.
Paulus V
XVII
VI-4/E-6
S

VII - Fountains in Rione Regola

| | | | | | | |
| --- | --- | --- | --- | --- | --- | --- |
| Name | (key) | Designed by | Heraldry of | Century | Location | Size |
| Fountain in Piazza delle | Cinque Scole | G. Della Porta | N. A. | XVI | VII-1/F-7 | S |
| Fountains in Piazza | Farnese | N. A. | Paulus III | XVII | VII-2/E-6 | S |
| Fontana del | Mascherone | N. A. | N. A. | XVII | VII-3/E-7 | S |
| Fountain in Piazza | Monte di Pietà | N. A. | Paulus V | XVII | VII-4/E-7 | S |
| Fontana della | Terrina | G. Della Porta | N. A. | XVI | VII-5/E-6 | S |

VIII - Fountains in Rione Sant'Eustachio

Name
(key)
Designed by
Heraldry of
Century
Location
Size
Fountain in Piazza della
Rotonda
G. Della Porta
F. Barigioni
Gregorius XIII
Clemens XI
XVI
XVIII
VIII-1/F-5
M

IX - Fountains in Rione Pigna

| | | | | | | |
| --- | --- | --- | --- | --- | --- | --- |
| Name | (key) | Designed by | Heraldry of | Century | Location | Size |
| Fontana del | Facchino | N.A. | N.A. | XVI | IX-1/G-6 | S |

X - Fountains in Rione Campitelli

| | | | | | | |
| --- | --- | --- | --- | --- | --- | --- |
| Name | (key) | Designed by | Heraldry of | Century | Location | Size |
| Fountain in Piazza d' | Aracoeli | G. Della Porta | Sixtus V | XVI | X-1/G-7 | S |
| Fountains in the | Orti Farnesiani | G. Rainaldi | Paulus III | XVII | X-2/I-8 | S |
| Fountain in Piazza di | S. Maria in Campitelli | G. Della Porta | N. A. | XVI | X-3/G-7 | S |

XI - Fountains in Rione Sant'Angelo

| | | | | | | |
| --- | --- | --- | --- | --- | --- | --- |
| Name | (key) | Designed by | Heraldry of | Century | Location | Size |
| Fontana delle | Tartarughe | G. Della Porta | N. A. | XVI | XI-1/G-7 | M |

XII - Fountains in Rione Ripa

| | | | | | | |
| --- | --- | --- | --- | --- | --- | --- |
| Name | (key) | Designed by | Heraldry of | Century | Location | Size |
| Fontana dell' | Emporio | N.A. | N. A. | XX | XII-1/F-10 | S |
| Fountains in Piazza di | S. Maria in Cosmedin | C. A. Bizzaccheri | Clemens XI | XVIII | XII-2/G-8 | M |

XIII - Fountains in Rione Trastevere

XIV - Fountains in Rione Borgo

Name
(key)
Designed by
Heraldry of
Century
Location
Size
Fontane dell'
Acqua Lancisiana
N.A.
Clemens XI
Pius VIII
XVIII
XIX
XIV-1/C-4
S
Fontana dell'
Aquilone
G. Vasanzio
Paulus V
XVII
XIV-2/A-3
M
Fontana delle
Chiavi
N.A.
N.A.
XX
XIV-3/B-4
S
Fountains in Via della
Conciliazione
N. A.
Paulus V
XVII
XIV-4/B-4
S
Fountain inside
Ospedale di S. Spirito
N. A.
Paulus V
XVII
XIV-5/C-4
S
Fountain next to
Porta Cavalleggeri
N. A.
Pius IV
XVI
XIV-6/B-5
S
Fountains in Piazza
S. Pietro
C. Maderno
G. L. Bernini
Paulus V
Clemens X
XVII
XIV-7/B-4
M
Fontana delle
Torri
G. Vasanzio
Paulus V
XVII
XIV-8/A-3
M
Fontana del
Vascello
G. Vasanzio
N. A.
XVII
XIV-9/B-3
M

Fountains outside the Walls of Rome

Name
(key)
Designed by
Heraldry of
Century
Location
Size
Fontana dell'
Acqua Acetosa
A. Sacchi
Alexander VII
XVII
N. A.
M
Fontana dei
Cavalli Marini
C. Unterberger
N. A.
XVIII
N.A.
S
Fountain in Via
Flaminia
N.A.
Pius IV
XVI
N.A.
M
Fountain in Piazza
Mincio
G. Coppedè
N.A.
XX
N.A.
M
Fountain next to
Porta Furba
N. A.
Clemens XII
XVIII
N.A.
M
Fountain in
Villa Paganini
N. A.
Innocentius X
XVII
N.A.
S
Fountains in
Villa Pamphjly
A. Algardi
G. L. Bernini
G. Valvassori
Innocentius X
XVII
XVII
XVIII
N.A.
M
S
M

Other Directories







Go to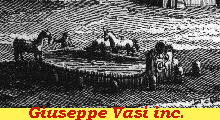 or to The Coats of Arms of the Popes or to My Home Page on Baroque Rome or to My Home Page on Rome in the footsteps of an XVIIIth century traveller