MEDIEVAL ROME
in the footsteps of an XVIIIth century traveller
(Torre delle Milizie e Torre de' Conti
background of this page: detail of Casa di Pilato )
A selection of plates by Giuseppe Vasi showing medieval Rome.
Porta Latina and S. Giovanni a Porta Latina (Plate 9)
Porta S. Sebastiano (Plate 10)
Porta S. Paolo (Plate 11)
S. Passera (Plate 12)
Palazzo Orsini and Monastero di Tor de' Specchi (Plate 30)
Palazzo Senatorio (Plate 31)
S. Paolo alle Tre Fontane (Plate 43)
Torri degli Annibaldi e dei Cesarini (Plate 45)
S. Lorenzo fuori le mura (Plate 46-ii)
SS. Quattro Coronati (Plate 50)
S. Clemente (Plate 51)
S. Tommaso in Formis (Plate 52)
SS. Giovanni e Paolo (Plate 53)
S. Teodoro (Plate 54)
S. Giorgio in Velabro (Plate 55)
S. Maria in Cosmedin (Plate 56)
S. Sabba Abate (Plate 57)
SS. Nereo e Achilleo and S. Balbina (Plate 58)
S. Maria in Trastevere (Plate 60)
Torre della Moletta (Plate 61-ii)
Ponte Nomentano (Plate 82)
S. Andrea dei Vascellari e Casa dei Ponziani (Plate 91)
Torre Caetani (Plate 92)
Casa di Pilato (Plate 94)
Monasterio di S. Paolo fuori le mura (Plate 100)
S. Agnese fuori delle mura (Plate 103)
S. Lorenzo in Lucina (Plate 105)
Torre del Papitto (Plate 114)
Tor Margana (Plate 116)
Torre degli Anguillara (Plate 119)
Torre Millina (Plate 121)
Torre della Scimmia (Plate 123)
SS. Silvestro e Martino ai Monti (Plate 124-ii)
Monastero de' Monaci Cisterciensi (Plate 126)
S. Pudenziana (Plate 127)
S. Prassede (Plate 127-ii)
S. Sabina (Plate 129)
S. Maria di Araceli (Plate 130-ii)
S. Gregorio Nazanzieno (Plate 141)
S. Lucia in Selci (Plate 143)
Casa di Ettore Fieramosca (Plate 145)
Torre delle Milizie (Plate 149-ii)
Torre del Palazzo del Marchese del Grillo (Plate 150)
S. Cosimato (Plate 151)
Torre de' Capocci (Plate 158)
Tor Sanguigna (Plate 164)
S. Lorenzo in Borgo (Plate 171)
S. Benedetto in Piscinula (Plate 173)
Torre Colonna (Plate 193)
Links to Ancient Rome
Links to Renaissance Rome
Links to Mannerist Rome
See also the List of Baroque Architects, Directory of Baroque Sculpture and the other Directories.

Go to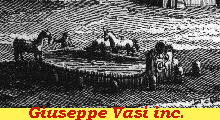 or to The Coats of Arms of the Popes or to My Home Page on Baroque Rome or to My Home Page on Rome in the footsteps of an XVIIIth century traveller.