Rione XIII Trastevere



Trastevere is a corruption of trans Tiberim (beyond the Tiber). Ancient Rome was founded on seven hills located on the left bank of the Tiber. The right bank (trans Tiberim) belonged to the Etruscans and most likely to the town of Veius (today Isola Farnese). A famous episode of early Roman history makes reference to the defence of Rome which took place on the timber bridge which crossed the river (Ponte Sublicio). Only after the defeat of Veius and the expansion of the Roman rule to most of Central Italy did the right bank of the river become an area of stable Roman settlements. However only in 275 A.D. Trastevere was included by the emperor Aureliamus in the pomerium (the city border) of Rome and it was protected by walls. In the XVIIth century Urbanus VIII redesigned the borders of Trastevere by building new walls which included in the rione most of the Janiculum hill.
Trastevere borders to the north on Rione Borgo, to the east on the Tiber, to the south and the west on the walls of Rome. In the XVIIIth century the area near the river was highly populated while the Janiculum was split into several villas.
For a map of the Roman quarters (Rioni) click here.



Coat of arms of Rione Trastevere


The symbol of Rione Trastevere is a lion's head.
Trastevere does not have imposing ruins of ancient Rome: at that time its inhabitants were mainly foreigners: ruins of a Syrian temple have been found in Villa Sciarra; traces of a sanctuary dedicated to the mysterious cult of Bona Dea have been found near S. Giovanni Battista dei Genovesi. The Roman walls are almost completely lost. In the XIXth century the excavation of Roman barracks near S. Grisogono showed that in the past the level of the ground near the river was some 20 ft lower than it is today.
Medieval Trastevere can still be found in the streets near S. Benedetto in Piscinula. The main church of Trastevere, S. Maria in Trastevere has fine medieval mosaics. One of the jewels of the Renaissance can be found in Tempietto del Bramante in S. Pietro in Montorio. In the early XVIIth century Trastevere got once again an ample supply of water. Pope Paulus V reactivated an ancient Roman aqueduct. The fountain built to celebrate this achievement (Mostra dell'Acqua Paola) is the most imposing monument of Trastevere. Palazzo Corsini and its gardens are the most interesting XVIIIth century addition to the rione.



Roman inscriptions of the lost sanctuary of Bona Dea now in the walls of Conservatorio di S. Giovanni di Baijlon, XVIIIth century madonnella near S. Maria della Visitazione and a (modern) antiques shop sign showing the symbol of Trastevere


In today's Rome the sense of belonging to a certain rione has since long disappeared: less than 5% of today's inhabitants of Rome live in the 14 historical rioni, but Trastevere is no doubt an exception. Its inhabitants believe to be "Romani de' Roma", true Romans and many associations try to keep alive old traditions including a yearly fair. That's why many shops show the symbol of the rione.



1777 Map of Rione Trastevere


Legend:
1) S. Benedetto in Piscinula
2) S. Salvatore a Ponte Rotto
3) Casino di Donna Olimpia
4) S. Cecilia
5) Ospizio di S. Michele a Ripa
6) S. Francesco a Ripa
7) S. Maria dell'Orto
8) S. Salvatore della Corte
9) S. Grisogono
10) S. Gallicano
11) S. Maria in Trastevere
12) SS. Cosmo e Damiano
13) Villa Spada
14) Porta S. Pancrazio
15) Acqua Paola
16) S. Pietro in Montorio
17) Bosco degli Arcadi
18) S. Maria della Scala
19) S. Giovanni della Malva
20) S. Giacomo alla Lungara
21) Regina Coeli
22) S. Maria della Visitazione
23) S. Onofrio
24) Porta S. Spirito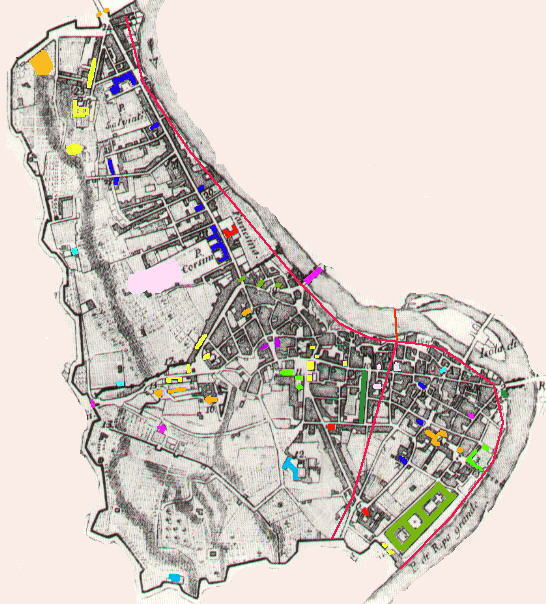 Main monuments of Rione Trastevere



The red lines in the map show the major changes which occurred after 1777:
a) the long line along the river shows the redesign of the bank in the 1880s: this led to the loss of some churches in Via della Lungara, of most of Giardino Farnese and of S. Salvatore a Ponte Rotto;
b) line across the river and into Trastevere: in 1887 a new bridge (Ponte Garibaldi) and a large avenue (today Viale Trastevere) created a new traffic axis which cut the rione into two parts.

The different colours group the monuments which are shown in the same page (the list includes a few minor monuments omitted in the map).






You can have a tour of Rione Trastevere by following the itinerary (Day 6) suggested by Giuseppe Vasi: first step S. Benedetto in Piscinula.
You can also have a very close look at it from the Janiculum: S. Spirito in Sassia, S. Giovanni dei Fiorentini, Carceri Nuove, S. Eligio degli Orefici, Palazzo Farnese, Ponte Sisto, la Renella, S. Sabina, S. Maria in Trastevere, S. Pietro in Montorio, Acqua Paola and S. Maria dei Sette Dolori.
You may also attend the Procession of Madonna de Noantri.









Go to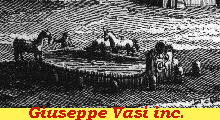 or to The Coats of Arms of the Popes or to My Home Page on Baroque Rome or to My Home Page on Rome in the footsteps of an XVIIIth century traveller